The Bodie Hills Conservation Partnership Newsletter is Back!
Dear Friend,
The Bodie Hills Conservation Partnership (BHCP) is proud to announce that our newsletter is no longer on hiatus and will be resuming on a quarterly basis. We hope you enjoy this first installment of the BHCP Newsletter in 2023.
We look forward to sharing more news and events from the Bodie Hills with you in the coming year!
Jora Fogg, former Bodie Hills Conservation Partnership Facilitator is the new California Associate Program Director at the Conservation Lands Foundation
Photo: Evening light at Avi Kwa Ame Proposed National Monument - By Maricela Rosales
Jora Fogg left her previous role as the Policy Director and Campaign Coordinator for the Bodie Hills Conservation Partnership at Friends of the Inyo (FOI) on December 16. Jora will be missed at FOI, but is remaining in the Eastern Sierra and will still be engaging in the permanent protection of the Bodie Hills in her new role as California Associate Program Director at the Conservation Lands Foundation (CLF), a key member of the Bodie Hills Conservation Partnership.
In June of last year, Jora won CLF's Advocate of the Year Award for her work in protecting Eastern Sierra public lands, particularly the Bodie Hills and Conglomerate Mesa. She even received a framed award that included a large print of a photo of the Bodie Hills, the principal photo at the top of this email, by renowned retired BLM photographer Bob Wick.
Thank you Jora for your work as the Bodie Hills Campaign Coordinator at Friends of the Inyo. We are grateful you will continue to be involved in the permanent protection of this special area in your new role. We look forward to all the great contributions you will bring to the Bodie Hills Conservation Partnership as the California Associate Program Director at CLF.
Noticed a New Name Sending Our Newsletter to Your Inbox?
My name is Allison Weber and I am a Policy Associate and the Forest and Water Campaign Manager at Friends of the Inyo. As I step into Jora's previous role of Bodie Hills facilitator for FOI, I will also be writing and distributing the Bodie Hills Conservation Partnership Newsletter on its new quarterly basis.
I moved to Mammoth Lakes when I was 13 and, like many, found my passion for the environment in the Inyo National Forest. I left the Eastern Sierra to study Conservation and Resource Studies at the University of California, Berkeley, where I managed an urban farm and got involved in public health research. Ultimately, my love for nature brought me back and when I am not working, I am a rock climber, telemark skier, and long-distance trail runner.
I have been working at Friends of the Inyo for over a year and am excited for this opportunity to join the Bodie Hills Conservation Partnership team. I look forward to leading trips in the Bodie Hills in 2023, so stay tuned to this newsletter and to our events calendar on our website for tour announcements!
You can reach me at allison@friendsoftheinyo.org
Partner Highlight: Bi-State Sage-Grouse

New Bi-State Sage-Grouse Communication and Data Coordinator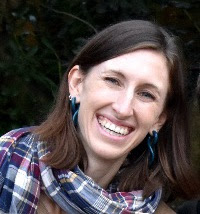 Please welcome Tracy Misiewicz, the new Communication and Data Coordinator for the Bi-State Sage Grouse organization, (bistatesagegrouse.com). Tracy is passionate about conservation and comes to this position with a strong background in science and science communication. She received her master's degree in Plant Biology and Conservation from Northwestern University and earned a PhD in Integrative Biology from UC Berkeley. Tracy spent four years serving as the Associate Director of Science Programs for The Organic Center where she collaborated with diverse stakeholders to facilitate and communicate science addressing a range of issues from agronomic challenges to the environmental impacts of agriculture. Most recently, Tracy has worked as a National Science Foundation Post-Doctoral Research Fellow where she led a number of conservation oriented research projects across California. Tracy is a dedicated conservationist with a love for the eastern Sierra and a passion for working with people. She is thrilled to apply her background in science and communication toward conserving the sage-grouse and its habitat.
Spring Peak and Bald Peak, respectively.
In December, Megan Mullowney, the District Ranger for the Bridgeport Ranger District, in the Humbolt-Toiyabe National Forest approved the Sawtooth Ridge gold exploration project as a categorical exclusion.
Sometimes referred to as a CatEx, CE, or CX, a categorical exclusion allows the environmental assessment or environmental impact statement required for a project by NEPA to be waived on the basis that the DOE has determined, by regulation, it will "not have a significant effect on the human environment." In the case of exploratory mining in particular, categorical exclusions are issued on the basis of the 1872 Mining Act, which, having originally encouraged the settling of the west, gives mining companies the right to explore for gold and precious metals on mining claims on public land.
The decision to approve the project on Sawtooth Ridge as a categorical exclusion comes despite the shocking (and significant) proposed removal of 700-900 healthy and mature pinyon trees.
Sawtooth Ridge
The company behind the exploration project at Sawtooth Ridge, Klondex Aurora, which is a subsidiary of Hecla Nevada, is proposing exploration core drilling from 16 constructed drill pads on forest service lands. The proposed drill pad size for the anticipated core drill is 90 feet by 90 feet.
This decision means there are now three exploratory mining locations approved by categorical exclusion in the Humboldt-Toiyabe National Forest on the Nevada side of the Bodie Hills, making permanent protection of the Bodie Hills even more critical. There will be drilling at three locations on the east side of the Bodie Hills this coming summer and fall: at Spring Peak by Headwater Gold, at Bald Peak by Paramount Gold, and now at Sawtooth Ridge by Klondex Aurora/Hecla Nevada. These projects will not only destroy plant life, but most likely disturb wildlife and disrupt the larger ecosystem that is so unique to the Bodie Hills.
"The mining exploration projects in process on the Nevada side of the Bodie Hills have already had devastating effects on critical wildlife habitat, but we will continue our efforts to protect the Bodie Hills from mining projects and other activities that threaten this special place."

-Wendy Schneider, Executive Director of Friends of the Inyo
While the approval of these exploratory mining projects is a loss to the ecosystem and weighs heavy on our hearts, the Bodie Hills Conservation Partnership is not discouraged. We will continue to fight for permanent protection in the Bodie Hills. We will continue to fight extractive and destructive practices which threaten these wild spaces, at every step of the way, and offer opportunities to those who love these lands to get involved.
The Bodie Hills in the News
Jora Fogg was featured in an article in The Sheet by Jon Klusmire on December 10th. The article, titled "The Fogg of War (Over Mining)," focused on a zoom presentation delivered by Jora on the current threats in the Bodie Hills, the values of this unique area, and what we can do to protect them.
You can read the article on page 11 of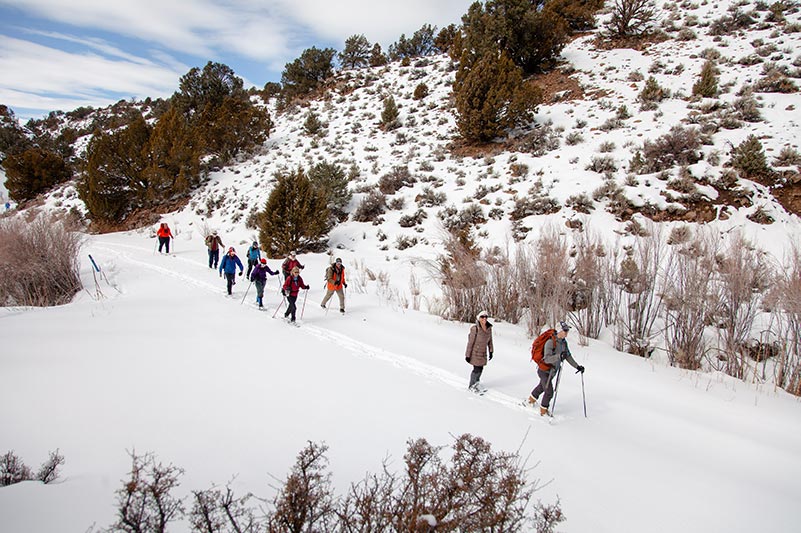 Winter Has Once Again Returned to the Bodie Hills
And what a winter it has been so far! Nine separate atmospheric rivers, narrow regions of deep moisture generated by ocean storms, hit California from Dec. 27 to Jan. 16, with an estimated 300 to 400 inches of snow falling in the snowiest locations high between Yosemite and Mount Whitney. Mammoth Mountain Ski Area here in the Eastern Sierra is reporting 243 inches since the days after Christmas, just over 20 feet of snow in less than a month.
Planning a Trip to the Bodie Hills?
SR270, the road to Bodie State Historic Park, is currently in a full eastbound/westbound closure due to snowy conditions; the dirt roads in the Bodie Hills are not plowed in the winter. Those seeking to see the Bodie Hills in winter splendor should be advised that over-snow travel requires snowmobiles, skis, or snowshoes.
Should you choose to snowshoe, cross country ski, or enjoy the wintery weather in the Bodie Hills another way, please share your photos with us by tagging Friends of the Inyo on Facebook, Instagram, or Twitter or by emailing them to allison@friendsoftheinyo.org.
Happy trails!
Thank you for your continued support of the BHCP.
If you would like to subscribe to the newsletter please click here.